Today, I installed the devils at the International Gallery of Contemporary Art. I begin to understand them more and to know their names. I will add what I have learned to this site.

The devils of poetry protect free expression -- they hate to be "rule-gagged" and they hoop and holler whenever a poet challenges what is passed on as "correct" in poetry. They favor duende (deep, rough and real). They throw a party when a poet breaks free from conformity to offer up something true, and new, and brilliant.
"I sure love my little devil. He sits near my desk while I work." Anne Caston
Tiny sad Devil (above) SOLD
This little devil will remind you how you feel when someone tries to restrain you. (6 x 6 x 2 " acrylic and paper collage, on canvas, able to sit on shelf.)
I am gathered together once more.
I embrace the world.

"The Long Waters,"
Roethke
Devil of Poetry #5 Madame Lascivia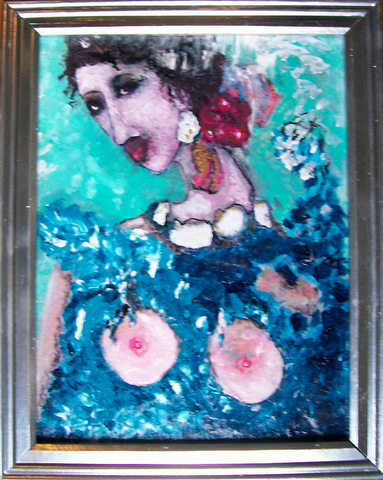 SOLD
Madame Lascivia urges the sensuous, the flesh. Here is the source of life -- or a life worth living. (11x14, acrylic and paper on wood) $95 framed.
Devil of Poetry #6
Devil of Poetry #6 SOLD - Truth to Power - (Tell it.) (Acrylic and paper collage on wood 5 x 5 x 2) Artist, Sandy Kleven $15

Devil of Poetry #7
--
SOLD
Party Man - Wild Man. Wickedly handsome. Womanizer. (11x14 - Acrylic and paper collage, on wood. Framed) $95 Artist: Sandy Kleven
Devil's Playground #1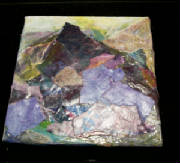 Torn paper transformed via the alchemy of poetry into deserted mountain range. (Paper, acrylic collage, 6 x 6" on block of wood. Free standing. ) Sandy Kleven, artist $35
Devil's Playground #2
Like the piece above only different. 6x6x2" (Acrylic and paper on block of wood. Can stand alone.) $35
From the back of your high horse
(unbridled) riding naked,
over lies, and railroad ties,
screech to the violet sky.
Fly to the moss felted
cradle of the liver spotted worm and
sing your birth song.
Out of order, out of line,
out of jail, most of the time,
YOU will SHINE.
SHOWING - JULY 2010

Prior to the July show, Devils of Poetry may be purchased on-line via Paypal.