Talking is the first defense – but, with rare exceptions, parents don't know what to say. Talk About Touch, can, in a sense, do the talking. It can break the ice and make touching problems something that it is okay to talk about.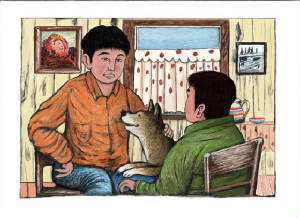 Most parents need a little help in teaching the prevention lesson. If they can be supported in talking to their children about sexual abuse, the balance of power shifts away from the perpetrator. Talk About Touch: Alaska helps parents get this safety lesson across to their children.
If children know that something like this might happen they are safer from the lies and manipulation of those who victimize kids.
If they know the subject is one that can be talked about in the family, they are far more likely to tell.
If they have been told that sexual abuse is never a child's fault, children will have less fear that they will be blamed for whatever has happened.
Sandy Kleven has been working to prevent child sexual abuse since 1980. She is also the author of The Right Touch, another book teaching the prevention lesson. Patrick Minock, illustrator, was raised in the village and his drawings prove it.